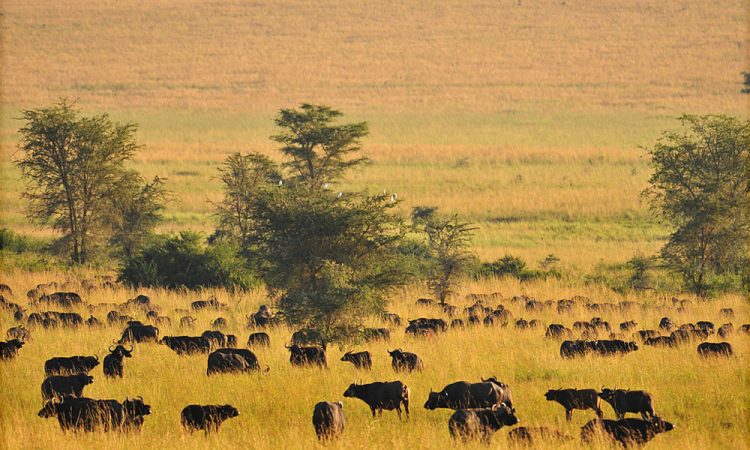 Uganda Tourism Sector Challenges
Uganda is a landlocked country located in East Africa. Its diversity is surrounded by mountains, natural tropical forests, lakes, rivers, waterfalls, National parks, game reserves among others.
Tourism in Uganda is mostly focused on Uganda's landscape and wildlife which are the leading tourist attractions in Uganda. Uganda is so very much blessed with over 10 National parks including; Murchison Falls National park in north western Uganda the largest savannah and National park in Uganda covering an area of 3840 square kilometers, Kidepo valley National park in northern Uganda Karamoja region and third biggest National park in Uganda covering an area of 1442 square kilometers, Queen Elizabeth National park in western Uganda and second biggest National park covering an area of 1978 square kilometres, mount Elgon National park in Eastern Uganda and highest volcanic mountain in Uganda covering an area of 1145 square kilometers with the highest peak Wagagai, mountain Rwenzori in western Uganda on the border with Democratic Republic of Congo and highest block mountain in Uganda with highest peak Margarita covering and area of 995 square kilometers, Kibale National park in western Uganda  a major destination for Chimpanzee trekking in Uganda with a tropical forest covering an area of 795 square kilometers, Lake Mburo National park in western Uganda home to Zebras and smallest savannah National park covering an area of 370 square kilometers, Bwindi Impenetrable National park in south western Uganda and major destination for gorilla safaris in Uganda covering an area of 325 square kilometers, Semuliki National park in western Uganda covering an area of 220 square kilometers and lastly Mgahinga gorilla National park in south western Uganda and smallest National park in Uganda covering an area of 33 square kilometers and also home to mountain gorillas and known destination for gorilla trekking in Uganda.
All these Uganda National parks are habitats to wild animals like elephants, lions, leopards, antelopes, duikers, giraffes, zebras, bush bucks, mountain gorillas which are the major tourist attractions in Uganda, chimpanzees which are also major tourist attractions in Uganda, monkey species like blue monkeys, red tailed monkeys, L'Hoest's, black and white colubus, grey cheeked monkeys, velvet monkeys among others, bush pigs, warthogs, Elands, tree climbing lions which are only situated in Queen Elizabeth National park, crocodiles, hippotamus, buffaloes, Rhinos which are seen on the way to Murchison Falls National park and so on.
The parks are also birding destinations where many bird species are seen like in Kibale National park, Queen Elizabeth National park which the Important Bird Area (IBA), Budongo forest in northwestern Uganda, Kyambura gorge, and so on.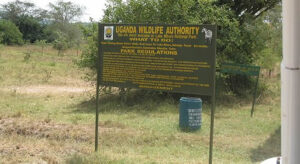 Uganda is also gifted with a variety of water bodies like River Nile which is the longest river in the world with its source in Jinja, Lake Edward, Lake George, Lake Bunyonyi the second deepest lake in Africa and bird paradise with many tourist activities carried out there like canoeing, swimming, Lake Victoria the second biggest lake in Africa with so many islands that inhabit variety of wild animals like chimpanzees, forest lions, forest leopards, bird species and other tourist activities like beaches, swimming, fishing, canoeing and so on carried out on the lakes, waterfalls like Sipi Falls, Murchison falls, Sezibwa falls which attract many tourists to view the magnificent falls running down the narrow gorges of the rocks with roaring sounds.
Uganda's tourism is also blessed with the natural landscapes including mountains like mountain Rwenzori the highest block mountain at an elevation of 5109 meters above sea level, also referred to as mountains of the moon because it consists of other mountains on its slopes including mount Stanely, mount Baker,Mount Speke, Mount Emin, and mount Luigi di savoi separated by deep gorges. They all shelter wild animals like forest leopards, forest lions, bush pigs, warthogs, birds, monkeys among others.
The cultural, historical, and religious sites in Uganda also contribute a lot in the tourism industry of Uganda for example the kabaka's palace in Mengo, kabaka's lake, Kasubi Tombs, Uganda Museum, Namugongo Martyre's shrine, Old Kampala mosque, Rubaga, and Namirembe cathedrals among others talk a lot about Uganda and its culture.
However much Uganda is gifted with all these tourist attractions and considered to be the fourth tourist destination in the world as earlier published by Rough Guide, a leading UK travel publisher with over a population of million tourists that visit Uganda annually, it has also been developed and improved considering years back but still faces challenges somewhere somehow and these include;
Limited marketing due to insufficient funding
The tourism industry of Uganda lacks enough funding to go and market Uganda tourism in other countries for example in expos in the United States of America and other countries which makes Uganda's beauty and features known worldwide because foreign marketing boosts tourism.
The poorly trained workforce in the tourism industry
The workers in the tourism industry especially in Hotel and Hospitality departments they are not well trained in the services they are supposed to offer especially to the foreigners. The government has not done much in funding and constructing training schools to teach quality skills. For example, its only one government school that is Uganda Hotel and Tourism Training Institute (UHTTI) located in Jinja which trains those who want to qualify in hotel management and tourism, it was there since 1994.
Competition from other neighboring countries
The Tourism industry in Uganda is facing a challenge of competition from neighboring countries like Rwanda, Kenya, Tanzania, Democratic Republic of Congo because they offer almost everything concerning tourist attractions that Uganda offers, so most tourists end up visiting the neighboring countries and not coming to Uganda. For example, Kenya and Tanzania have more of savannah National parks with a large variety of animals some of which are not in Uganda. More competition comes from Rwanda when it comes to mountain gorilla safaris because;
Rwanda has direct flights from Europe, Asia, and the American continent which is not the case with Uganda. Even Tanzania and Rwanda also have direct flights from the source markets.
The drive from Kigali airport to Volcanoes gorilla park is only 90 minutes, thus making Rwanda safari packages more selling compared to the 10 hours drive from Entebbe International airport to Bwindi or Mgahinga N.P.
The tourism industry is facing problems of poaching of wild animals like lions, elephants, buffaloes, antelopes, monkeys, chimpanzees, zebras, and bird species. Poaching refers to the illegal killing of wild animals which reduces their numbers yet they are the major tourist attractions. Most of these animals are killed for meat, their skins, and horns among others. For example in 2018, 12 lions Queen Elizabeth National park in western Uganda were poisoned by the local people which reduced their numbers and affecting the tourism industry
Inadequate and improper infrastructure
Most of Uganda tourist destinations and sites are located in remote areas with roads that are in poor conditions and far from the city yet these tourists don't like driving on the road for long hours, the flights that are available are quite expensive which makes them resort to the road means. Also, accommodations that are not up to the standards of tourists and others relatively expensive also hinder their coming.
Allocation of little funds to the tourism industry
Unlike other countries like Rwanda that allocates over 5 million US dollars, Tanzania allocates 10 million US dollars and Kenya allocates 23 million US dollars in the tourism industry, Uganda only allocates 300.000 US dollars in the industry which very little money to promote and develop the tourism industry. The tourism industry requires marketing, construction of roads, sensite local communities around the tourism sites, and improve their living standards, renovation of hotels among others, so if the funds are not enough, then it hinders the growth of the industry that attracts tourists.
There is poor service delivery in the tourism industry especially in hotels, lodges where the tourists are handled badly and it hinders their coming back in the country because they did not get what they wanted. This is normally done by unskilled workers who lack professionalism in handling clients. In some hotels and lodges, they also steal tourist's belongings like money, clothes, shoes which makes them not return to the country.
Some tour and travel companies are not professional
Tour and travel companies do not offer viable information to the tourists that they expect due to professionalism especially among the tour guides who spend more time with the tourists, they are expected to deliver what is expected of them, failure to or irrelevance the tourist do not come back.
Encroachment on the National parks land
Local communities encroach near the National parks and others on the gazetted land for the parks and the tourism board together with Uganda Wildlife Authority finds it hard to relocate them to other places since they have to be compensated. Most communities that stay around the National parks and game reserves participate in killing these animals especially in case they escape and attack them.
Limited and Expensive accommodations facilities
Uganda has few hotels and lodges outside the city that can accommodate the number of tourists that come in groups. For example, tourists who come in a group of 50 pax cannot get accommodation in the same hotel or safari lodge but instead can be distributed in different hotels/lodges which the tourists may not like in case they wanted to stay around the same accommodation. Additionally, the available accommodation facilities are very expensive.
High taxes imposed on accommodation
The high taxes imposed on lodges and hotels by the government leads to the increase in the fares of lodging by the private sectors which seem expensive for the tourists yet they prefer to stay in pocket-friendly accommodations.
High airfares due to lack of National carrier
The high airfares are quite a challenge to Uganda's tourism sector because tourists find it hard to fly into Uganda because of the fares since there is no direct plan to Uganda and the Uganda airlines itself is not direct and they opt to fly into the neighboring countries like Kenya, Rwanda for a tour which affects the tourism industry.
Political unrests in some parts of the country
A country that is unsafe is a threat to the development and growth of the tourism industry. Tourists can not wish to visit a country that is insecure especially theft, kidnaps, verbal threats, and written threatening documentaries about Uganda. This is normally done through social media platforms like Facebook, twitter among others that threaten tourists from coming to Uganda hence challenging the tourism industry.
Undeveloped domestic tourism
Domestic tourism is tourism by the citizens of the country. There is no way the citizens can sell their country to foreigners when they do not know what is there. The citizens and the stakeholders should love and visit the tourist attractions and destinations in the country then also the foreigners can love and visit it.