Gorilla trekking is mainly the reason why someone might look for accommodation in or near Bwindi impenetrable forest national park. However, it should be noted that Bwindi impenetrable forest national park does not only offer gorilla trekking but also nature walks whose inception point is often also in line with the four sectors of Bwindi impenetrable forest national park.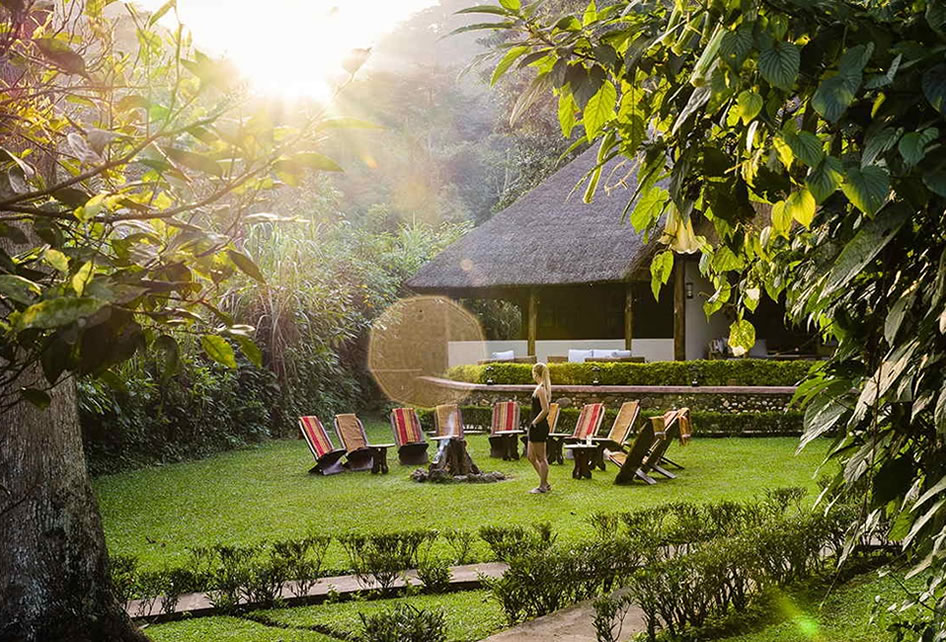 Bwindi impenetrable forest national park has four gorilla trekking sectors, the Nkuringo sector, the Rushaga sector, Ruhija sector, and the Buhoma sector. Whenever you buy a gorilla permit from Uganda wildlife Authority, you will be attached to one of these sectors gorilla trekking.
Anyone interested in trekking a particular gorilla family will have to first identify which sector that particular gorilla family is found. Then you can proceed to book a gorilla permit in that particular sector. There are many reasons people prefer the Buhoma sector to other sectors one of which is its proximity to Queen Elizabeth National park.
Location of Sanctuary Gorilla Forest Camp
Sanctuary Gorilla Forest Camp is one of the few lodges that are found within Bwindi impenetrable forest national park. It offers some of the best of nature views ranging from the thick Bwindi forest cover, the birds, and on lucky occasions spotting the mountain gorillas without trekking.
Featuring only eight tents in the only concessionaire tented camp in Uganda's Bwindi Impenetrable Forest, this lodge ensures guests enjoy privacy, exclusivity, and the most natural wildlife experience available.
The luxury tents offer space and are furnished in an African safari decor offering two comfortable queen-sized beds. In the bathroom, one finds a large bathtub overlooking the jungle. These accommodation tents provide convenient amenities as well as a private viewing deck.
General Services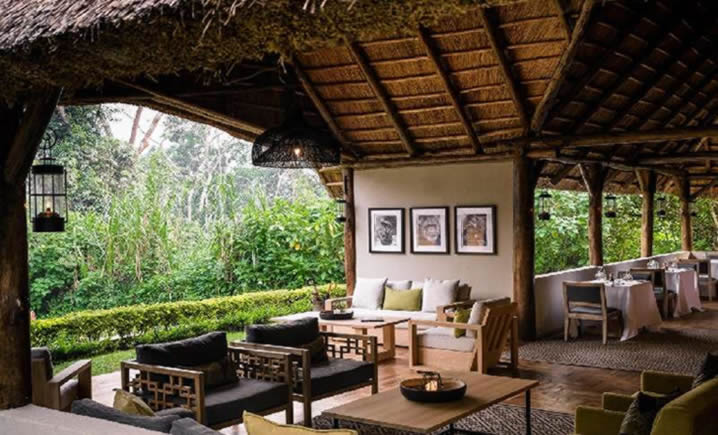 • Packed Lunches
• Spa and beauty treatment
• Tours upon request
• Wellness center
• Housekeeping service
• Laundry services
• Airport transfers
• Concierge services
• Full-time power
• Campfires
• Free Wi-Fi
Children Policy
• The minimum age for gorilla trekking is 15 years. Therefore, if you come with a child below the age of 15, we can only recommend a nature walk or a birding trip.
• At sanctuary Gorilla forest camp, Children of 2 years and below are free of charge.
• Children between 3year and 15years pay "child reduction rate" when sharing with two full paying adults.
• Children between 16 and 17 years will pay the same fare as adults.
Luxury Tent features:
• Two queen beds
• En-suite bathroom
• Large bathtub
• Private viewing deck with chairs and tables.
Sanctuary Gorilla Forest Camp Rates
Valid From 1 April-30 May, 1 November-20th December
Rates
1-3 Nights
$415
4 – 6 Nights
$291
7+  Nights
$270
 
From 6 January – 31 March;1 June – 30 June;1 October- 31 October
Rates
1 – 3 NIGHTS
$630
4 – 6 NIGHTS
$567
7+  NIGHTS
$473
Valid from 1 July – 30 September, 21 December – 3 January 2021
Rates
1 – 3 NIGHTS
$795
4 – 6 NIGHTS
$755
7+  NIGHTS
$716
Dining At Sanctuary Gorilla Forest Camp: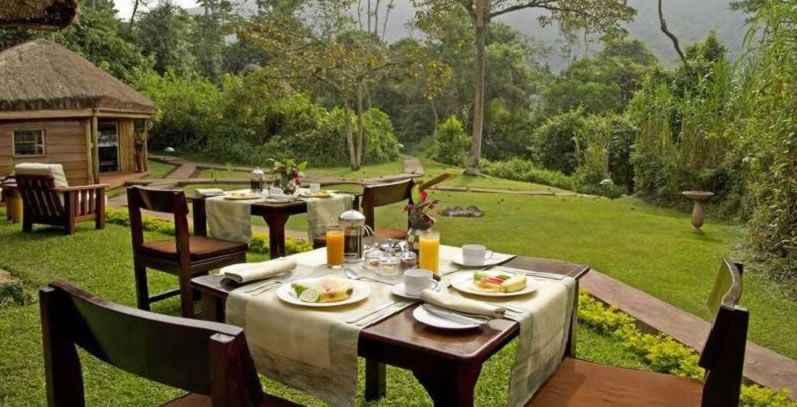 The lodge has an in-house restaurant that offers the following services
• 4 – 5-course table d'hôte and a la carte menu
• dietary requirements upon request
• Dining venue and bar
• Outdoor boma fires place
• Private dinners (Recommended for romantic honeymoons)
Facilities At Sanctuary Gorilla Forest Camp: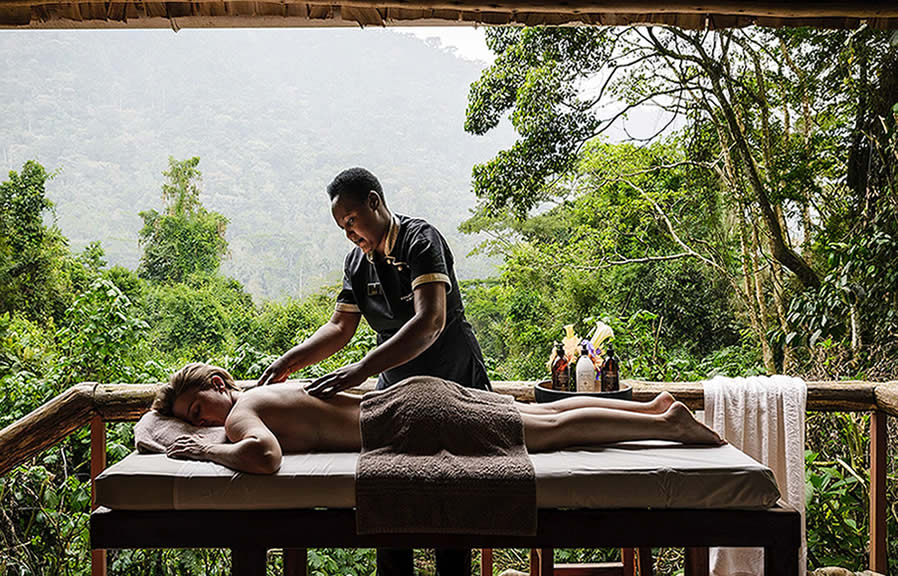 • Spacious Lounge
• Mini Massage Spa
• Spacious Dining venue
• Bar and Restaurant
• Terrace and garden
• Viewing deck
• Gift Shop
• Hiking trails
• Garden Terrace
• Wellness center
Activities At Sanctuary Gorilla Forest Camp:
• Bwindi Impenetrable Forest Nature Walks
• Community tours
• Buhoma Sector Gorilla tracking
• Batwa tribe cultural experience
• Birding around the Lodge
• Glamping (8 Luxury tents)
• Gorilla watching (Sometimes mountain gorillas visit the lodge)
Amenities At Sanctuary Gorilla Forest Camp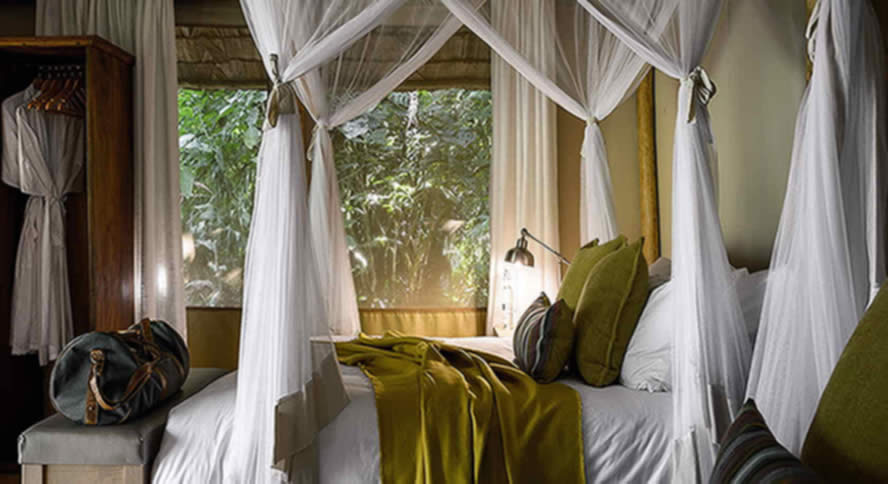 • Ensuite private bathroom
• Terrace
• Full-time Housekeeping
• Queen sizes beds
• Viewing Deck
Check-in and Check-Out Times
• Check-in: 10:00
• Check out: 10:00
Places You Can Visit From Sanctuary Gorilla Forest Camp
• Queen Elizabeth National Park
• Lake Bunyonyi
• Lake Mutanda