Sabyinyo Silverback Lodge Rwanda, Luxury Gorilla Lodges Rwanda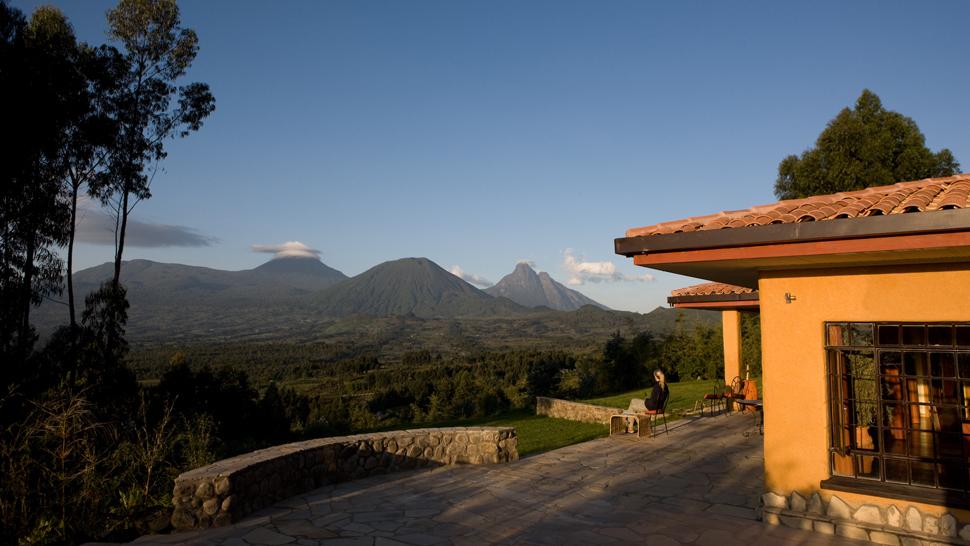 Sat in the foothills of the Virunga Volcanoes, 7,000 feet above sea level, Sabyinyo Silverback Lodge has stunning views of the folding hills and rolling landscape that defines this part of Rwanda. It is considered one of the most luxurious lodges is the area, and sat so close to the start of the gorilla trek trail, its is perfect for a high end gorilla safari. It is a great base to explore this beautiful and unique corner of Africa.
The lodge itself is elegant and homely with a contemporary Rwandan ambiance, and the hillside location provides a great opportunity to walk around and explore some of the local villages and farms.
8 guest rooms (5 cottages, 2 suites and a family cottage)
No swimming pool
Children welcome (restrictions apply)
Great for gorilla trekking
Style: A luxury safari lodge with large detached accommodation.
Setting
Sabyinyo Silverback Lodge is just 3km away from the main entrance to Park National des Volcans and 2 hours drive, on good roads, from central Kigali. To the north are great views of the 15,000ft high Virunga Volcanoes and to the south the agricultural lowlands.
Accommodation & facilities
The main lodge is made from local stone with terracotta roof tiles and beautifully landscaped gardens, ideal for trying to spot one of the area 650 bird species. The bar and dining area lead out on to an extravagant and extensive outdoor decking area from which guests can enjoy spectacular views and relax after a hard days trekking. The main lodge also has a library, games room, shop and a community awareness centre – where you will find information on the areas gorillas and the history of Rwanda.
Accommodation consists of 5 cottages, 2 suites and a family room, which has an extra bedroom and bathroom. Each room has its own private veranda, modern en-suite bathroom and sitting room with a fireplace, fantastic as it can get chilly in the evenings. Rooms also include a dressing room, large comfortable beds and huge windows, so you can't escape the beauty of the area.
Activities
Gorilla trekking is the main activity in the area. Watching these magnificent creatures in there natural habitat is a surprisingly a dramatic, touching and thrilling experience, the memories of which will last you a lifetime. Other than this there are visits to local community projects and genocide memorials and escorted excursions such as walks and bird watching.
Additionally there is a massage parlour for those wanting something a little more indulgent!
Child policy: Children of any age are welcome; however they must be 15 or over to take part in trekking the gorillas.