Gorillas Nest Lodge – Luxury Safari Lodge in Rwanda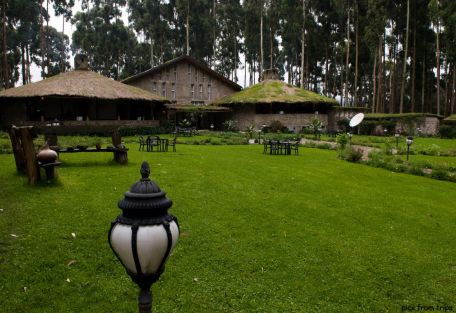 Discover the home of mountain gorillas
An awe-inspiring experience awaits you in this part of Africa. Share the Mountain Gorilla's family space, soak up the serenity found in nature and marvel at the abundance of primates in this magical spot.
Positioned on the foothills of the Virunga Volcano range this beautiful lodge provides breathtaking views of Rwandan hills and the slopes of the Volcanoes National Park. Situated in Northern Rwanda's Musanze district, Gorilla's Nest Lodge is nestled in a forest of Eucalyptus trees.
THE ORIGINAL GORILLAS NEST LODGE
The Gorillas Nest Lodge recently sustained fire damage to its main public building.
This has limited the operational capacity of the lodge until the main Lounge and Dining Room are restored.
The Lodge remains open for single family or friends groups of up to 8 pax who will be accommodated in the famous Hanna Cottage (max 4 pax) and adjacent Ranch Rooms (max 4 pax) on the property with all meals prepared by a private chef in the Hanna Cottage. The Hanna Cottage was recently renovated to 5-star standards and ranks as the finest accommodation available in the region. Rate prices quoted include all meals and selected beverages, our terms and conditions apply. Minimum booking requirements at the lodge is 2 pax per night.
Guests are hereby notified that some noise associated with demolition and reconstruction of the main public building, limited to normal daylight hours, is likely.
The owners and management of the property apologize for any inconvenience caused and wish to assure all guests staying on the property in the intervening period of continuing excellent and personalized service.
For further enquiries and clarifications regarding existing and future bookings please contact:
Reservations:
Tel: +27 (0) 21 405 0757 (South Africa)
Mobile: + 27 (0) 72 373 0471 (South Africa)
EMAIL: info@gorillasafarilodges.com