Le Bambou Gorilla Lodge Kinigi, Rwanda – Gorilla safaris
Feel the Volcano and Gorillas around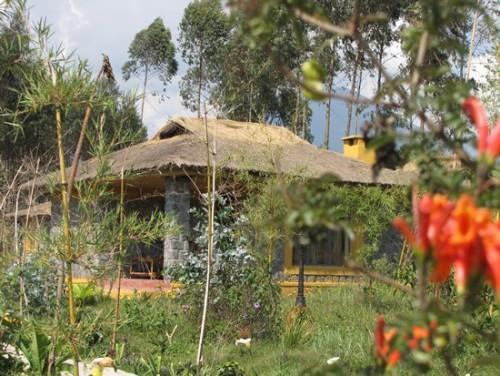 Le Bambou Gorilla Lodge has an unrivaled reputation for relaxation. Well suited for you being away from home yet feel at home. We provide you the best facilities, the most opulent furnishings and the highest quality service as our esteemed guest. We take our social responsibility very seriously. Rendering good service is our code.
Rooms
In Le Bambou Gorilla Lodge, you have choice from 9 self contained rooms. each one has:
Hair dryer
>Mini refrigerator
Bed, chairs and wardrobe in bamboo
A fireplace (wood-burning)
These are all individual rooms, each with its own private bath
Views of the valley year-round
From 5:00PM to 7:00 AM; warm water.
Discounted rates are offered for residents of Rwanda, diplomats, international wholesalers, travel agents and tour operators – please enquire further to discuss these options.
Budget accommodation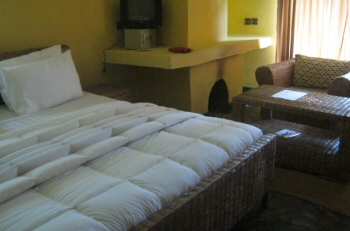 Bed, breakfast and self-catering accommodation in KiNIGI- VIRUNGA NATIONAL PARK staying in LE BAMBOU GORILLA LODGE is a convenient and affordable way to stay in the Virunga National Park entrance. We have single rooms, twin beds and triple beds.
Gahinga Restaurant
With quality cuisine, you will find a world of difference at every meal, and in a new and original environment every time.
Enter a world of delectable flavors for some unforgettable experiences.
Enjoy the many delights on our extensive à la carte menu. Gahinga Restaurant is a great spot to enjoy a relaxed lunch or dinner with exquisite food and a selection of international and local dishes.
Our local-grown fruits and vegetables allow us to accommodate vegetarians and other individuals with dietary restrictions. Our dinners combine fresh Riboke ingredients to create a unique fusion of African, French, Italian and American tastes.
You can book affordable and memorable gorilla tours with African Jungle Adventures ltd, the Number 1 gorilla safari company in Uganda, Rwanda and DR Congo.
Our activities
Airport transfer
Gorilla permits booking
Bird watching and walking
Twins lakes visits (Burera and Ruhondo ) in Burera District.
Visit to local markets
Visit to local school
Visit to "IBY'IWACU CULTURAL VILLAGE"
Bisoke Hiking
Diana Fossey's grave hiking