Kinigi Guesthouse – Basic Gorilla Lodge Rwanda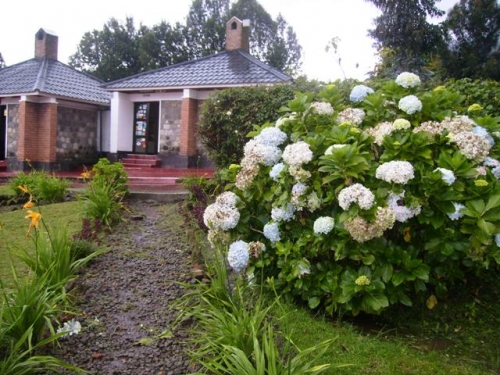 Kinigi Guest House locally known as "Village Touristique de Kinigi" is situated in on the foothills of the Virungas volcanoes National park in Rwanda. It is only 11 Km from Ruhengeri town. Kinigi Guest House is a comfortable base to the panoramic commanding beauty of the volcanic mountain ranges of Virunga, the natural habitat of the rare mountain gorillas. It is situated at the bottom of Sabyinyo volcanic mountain.
The Guest House accommodates over 40 people and all rooms have electricity and warm water. For the more discerning travelers, there is 1 VIP suite. The proximity and ideal location of Kinigi Guest House make the early morning gorilla trekking departures from the office much more convenient. Kinigi Guest house is well maintained and the Virungas Mountains and volcanoes provide breathtaking magnificent views on a clear day.
Kinigi Guesthouse was founded as  an income generating project for the "Association de Solidarité des Femmes Rwandaises" (ASOFERWA), a non-profit making organization of mainly widows and orphans). The income generated from the Kinigi Guesthouse is used to pay school fees for local orphan children, purchase land for agricultural projects, support groups of widows, and provide a market for art pieces of the local artists
Kinigi local community members are employed at Kinigi guest house, food and other items are sourced from the local Kinigi community. The social responsibility concept behind Kinigi Guesthouse is investment in the local community and provision of responsible tourism accommodation