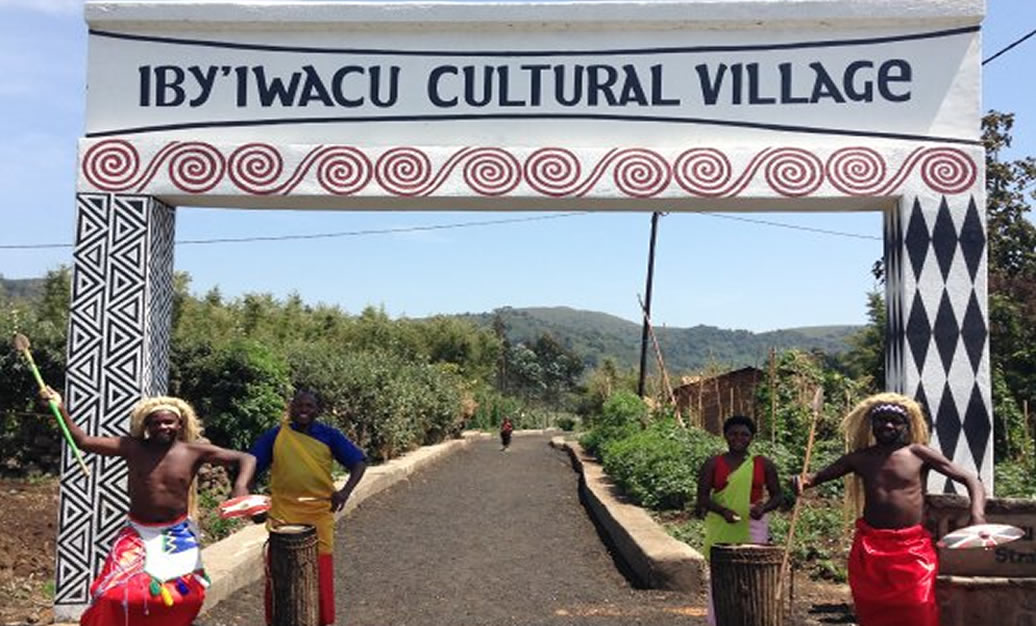 Iby'Iwacu Cultural Village: The Gorilla Guardians

If you love cultural safari and you plan to visit Rwanda for a holiday, then the one place you need not miss to explore is the Ibyiwacu cultural village, also known as "The Gorilla Guardians". This cultural center is situated about 15 minutes' drive off Sabyinyo silverback lodge and it is remarkably one of the best areas for one to explore while on a cultural safari in Rwanda. A visit to this cultural village offers you the opportunity to discover the traditional house of the king, watch the medicine man as he prepares the herbals, or, have a hand in shooting or have incredible moments with the cultural dances and drumming performances from locals.
In this area, you can embark on guided walks for about 1 hour and freely take photos. As well, you can take a walk to the village from Sabyinyo silverback lodge. Volcanoes National Park, however, has helped maintain the development of many community enterprises such as basket weaving, art and craftwork as well as community-based tourism. For visitors on Rwanda gorilla safari to Volcanoes National Park in Rwanda Ibyiwacu cultural village is that one incredible area you shouldn't miss to pay a visit for authentic cultural experiences.
A visit to this cultural village is a great opportunity for you to learn more about the traditional rural life of Rwandans. You will meet locals while in the comfort of their homes and also have a chance to have a taste of their cultural and traditional dishes. The locals in this area are very welcoming and friendly. The village lies about 20 minutes' drive off the Musanze district within the Kinigi area, Nyabigoma cell just near Volcanoes National Park.
The word Ibyiwacu denotes the treasure of our home or rather our heritage hence the village displays the real treasures behind the existence of Rwanda as a country. It is from this village that you can witness the unique lifestyles of locals who lived in Rwanda since its dawn times. Regardless of the fact that Rwanda's ethnic diversity revolves around the 3 main ethnic groups-the Hutus, Batwa, and Tutsis, these ethnic groups have bonded together to make this country a few endowed countries in Africa with unique cultures and traditions.
Its establishment was mainly to strike a balance between wildlife conservation and the local community. The fact that poverty features as a major root cause of poaching in Africa, there is a need for park authorities to derive alternatives for local communities that live near such protected areas to limit the continued severe impacts that are likely to occur due to poaching.
The establishment of a cultural village featured as the best alternative to boost the livelihood of the locals living adjacent to the park. This cultural village however enabled rehabilitates the ex-poachers who realized the positive impact of conserving wildlife on their families and the future generations. It was also meant to preserve Rwanda's culture as most youths began to ignore the significant cultural values and norms of their area. To make culture the main means of earning a living in this area was thought to be one of the best alternatives to help preserve it thus the creation of Ibyiwacu cultural village / Gorilla Guardians.
Today, there are many activities visitors can take part while on Rwanda cultural safari in Ibyiwacu cultural village and they include;
You can engage in community walks with a guide and you can kick start your walk with paying to the community. While on community walk, you will visit various tourism sites within the community where you will interact with and learn more about the daily lifestyle in different families.
You can as well pay a visit to the King's house and while here, meet the caretakers, get a local guide who takes you through different incredible stories concerning this area and the kings. You will also learn more about the various meanings of each symbol within the palace.
Engage in traditional dances and music
Rwanda comprises about 8 distinct kinds of traditional dances and music that you need not miss to be part of. Locals display their unique dance and music performances and the most important one you shouldn't miss is the intore dances.
Besides, you can also pay a visit to the Batwa community-the indigenous people who live near Volcanoes national park.