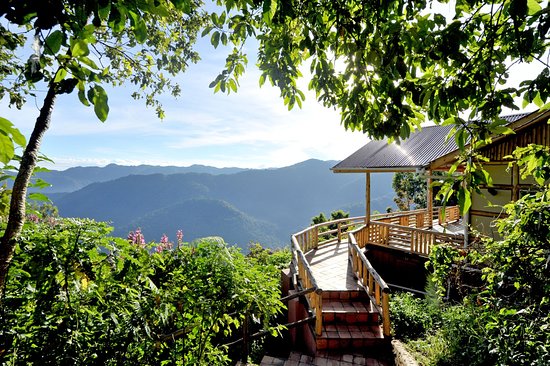 Top Places to Stay for Gorilla Filming Production in Bwindi and Mgahinga National Parks
Are you planning to visit Uganda for gorilla filming and you aren't certain about where to stay? Planning for a complete safari for gorilla filming in Uganda like other gorilla safari destinations can be challenging a fact that film crews or production companies have a lot to put together.
Uganda prides itself as a home to the 2 topmost visited gorilla trekking destinations making it also a preferred gorilla filming location in Africa. They include Bwindi Impenetrable National Park and Mgahinga Gorilla National Park- whereby in each of these gorilla filming locations there are various accommodation options for film crews or production companies to choose from.
The different gorilla filming lodges in Uganda range from Budget, Midrange, and Luxury. These exist in all the two gorilla safari parks in Uganda- Bwindi Impenetrable National Park and Mgahinga National Park. Here are the top gorilla filming lodges in Uganda.
Buhoma Lodge is a luxury safari lodge for gorilla filming in Bwindi National Park, set in the Buhoma sector- the Northern region of the Park. If you plan to film mountain gorillas in the Northern sector- Buhoma then this is the right place to stay in. The lodge lies in close proximity to Bwindi National Park entrance point and the available gorilla families to film at Buhoma include Mubare, Katwe, Habinyanja, and Rushegura.
Buhoma Lodge boasts of its 10 cozy cottages with amenities or facilities/features such as comfortable beds, bar- fully stocked, fireplace, en-suite bathrooms, solar power, dining area, lounge, Wi-Fi, mosquito-proof room, and more.
Located on Lake Mutanda, Chameleon Hill Lodge boasts of its uninterrupted views of the surrounding Virunga volcanoes and the misty Bwindi Impenetrable Forest. The lodge offers outstanding luxury accommodation services to gorilla safari holidaymakers in Bwindi or filmmakers on filming tours.
Chameleon Hill Lodge is positioned in the Southern sectors of Bwindi NP- Nkuringo and Rushaga. While at Chameleon Hill Lodge, it is easier visiting any of the numerous habituated gorilla families in Rushaga or Nkuringo including among others Bweza, Nkuringo, Nshongi, Kahungye, Busingye, Kutu, Christmas, and more.
There are 10 private cottages each distinctly decorated creating background that seems like a chameleon hence its name. The rooms are equipped with extra blankets, mosquito nets, comfortable mattresses, a restaurant, a fully stocked bar, and others.
Ruhija Gorilla Safari Lodge
Ruhija Gorilla Safari Lodge is a luxury accommodation recommended to the film crew fixing team in Uganda, suitably positioned in the Ruhija sector- the Eastern side of Bwindi Impenetrable National Park. The luxury facility features 8 well-set up cottages and they feature 4 superior room twin cabins with a capacity of 8pax, 4 deluxe room cabins, 6 standard rooms with a capacity of 12pax.
The main amenities of Ruhija Gorilla Safari Lodge include the side bed lampstands, hot water bottles, 2 pairs of slippers, reading chair, table, fireplace, 8 en-suite cottages, DSTV, gift shop, coffee & tea making facilities, Wi-Fi, dining area, and a mini-library.
Mount Gahinga Safari Lodge
Located at Mgahinga Gorilla National Park gate is Mount Gahinga Lodge, the park's only luxury lodge. This luxury gorilla safari facility is comprised of 6 luxurious cottages, fitted with en-suite bathrooms, bar, restaurant, sunroom, solar power, and more. Mount Gahinga Lodge is ideal not only for filmmakers but also visitors on gorilla trekking, golden monkey tracking safari in Mgahinga Gorilla National Park.
Gorilla Mist Camp in the Ruhija area is a mid-range filming gorilla safari lodge accessible 5 minutes' drive from the briefing area. This is an eco-friendly facility with cottages set on raised decks offering excellent views of Bwindi Impenetrable Forest. Gorilla Mist Camp has en-suite facilities like a bathtub, lounge, restaurant, bar, and more.
Gorilla Valley Lodge is a midrange facility in Rushaga sector, the Southern gorilla filming region in Bwindi Impenetrable National Park. The lodge has 12 en-suite rooms, comfortable beds, solar verandah, and other facilities. There is also a bar, restaurant, double-sided fireplace. Gorilla Valley Lodge is ideal if you are interested in filming gorilla families like Mishaya, Kahungye, Busingye, and Bweza, etc.
Set overlooking Kashasha River Valley and Bwindi Impenetrable NP, Nkuringo Gorilla Camp is another best place that is worth booking for your overnight while on a gorilla filming production in Uganda. The gorilla camp is found on the Nteko ridge, 2161m above sea level. It has 4 luxury en-suite handcrafted cottages, 4 en-suite Virunga terrace rooms, tents for camping and the facilities range from a fireplace, bar, restaurant, solar power, extra battery.
Silverback Lodge Bwindi is a standard lodge found on the high elevation, offering amazing views of the misty Bwindi Impenetrable Forest. The lodge is comprised of 12 rooms and these include single rooms, 7 twin rooms, and 4 double rooms. The facilities include bonfire, gardens, restaurant.
Travelers Rest Hotel is a standard hotel found in Kisoro, 100m away from Mgahinga Gorilla National Park offices. The lodge has a fireplace, bar, 11 fully furnished rooms, a lounge, and a restaurant.
Mucha Hotel Kisoro is 6kms off Kisoro and it is set strategically offering amazing views of the Virunga volcanoes and River Mucha. The hotel has 10 en-suite bed rooms, a fully stocked bar, laundry service, restaurant and more.
Kisoro Tourist Hotel is a budget gorilla safari lodge built in Kisoro Town. The hotel has secure parking, a garden, restaurant, fireplace, lounge, bar fully stocked, gift shop, and other facilities.