Kibale Forest National Park in Uganda
It is approximately 6 hours drive from Kampala to Kibale national park (Home of exciting chimps). Reaching there, visitors are advised to take the road from Fort Portal to Kamwenge, which commences near the bridge over the Mpanga River in Fort Portal and is well signposted. Turn left at the junction 12 km from Fort Portal and follow signpost for a further 24 km to Kanyanchu Tourist Centre.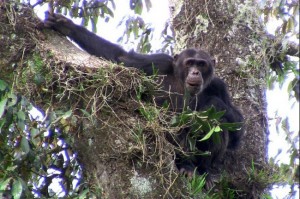 It is 766 km2 (296 sq mi) in size and is located between 1,100–1,600 meters (3,600–5,200 ft) in elevation. Despite encompassing primarily moist evergreen forest, it contains a diverse array of landscapes. Kibale is one of the last remaining expanses to contain both lowland and montane forests. In East Africa, it sustains the last significant expanse of pre-montane forest.
The major activity in this park is chimpanzee tracking which is conducted in the morning and afternoon. Each groups of chimpanzee is limited to 6 people- leave daily at 8:00 am and 3:00pm; the walks last about 3 hours. The park also protects a large block of rainforest that offers some excellent forest for bird watching.
Birding in Kibale National Park:
Bird watching tours start at 7am at Kanyanchu. Bigodi Wetland Sanctuary, located just outside the park, is home to 138 bird species which may be seen during guided walks along the boardwalk trail and viewing platforms. The park is protects a variety of beautiful bird species like:
Red-winged Francolin, Red-chested Flufftail, White-naped Pigeon, Green-brested Pitta, African Pitta, Joyful Green-bul, Grey-winged Robin, Abyssinian Ground Thrush, Grey-throated Flycatcher, White-bellied Crested Fly-catcher, Masked and Black-capped Apalises, Uganda Woodland Warbler, Chestnut-winged Starling, Orange-tufted and Tiny Sunbirds, Grey-headed Olive-back among others. A keen observer may spot reptiles and amphibians as well as a colurful variety of 250 species of butterflies.
Chimpanzee Trekking and Habituation:
Kibale's most popular activity is the Kanyanchu Primate Walk. Thirteen species can be sought, and a good variety of diurnal monkeys invariably encountered, but the stars of this twice-daily show are chimpanzees.
Cultural Encounters in the nearby communities:
Join a local guide on a walk through the Magombe swamp wetlands to enjoy the local wildlife, birds and vegetation. The daily life of the Batooro can be discovered during village walks, including stops at the village's primary school, church and traditional healer.
Nature Walks in the park:
When chimpanzees and other forest residents rest up at dusk, a nighttime shift of rarely seen creatures becomes active. Night walks though the darkened forest use powerful torches to seek nocturnal creatures.
Other wildlife
Kibale forest has guaranteed chimpanzees alongside other primates like Guereza Colobus, Olive Baboon, Grey-cheeked Mangabey, L'Hoest's Gentle ( Blue) and Red-tailed Monkeys. Luck visitors can also see forest Elephants, Bush Pig and Bufallos along the trails, whilst Bushbuck, Blue, Harvey's and Peter's Duickers are other shy inhabitants of the forest interior.
Other interesting mammals from the list of over 60 species include Ichneumon, Banded and Marsh Mongooses, Alexander's Cusimanse, Swamp Otter, Ratel ( Honey Badger ) and African Palm Civet. Although Golden Cat, Serval, Lion, Leopard, Warthog, Giant Hog and Hippopotamus.
The Bigodi swamp:
Facilities at Bigodi include; an observation tower and a boardwalk that traverses the papyrus beds. The path and boardwalk may be flooded and muddy after heavy rain and gumboots are recommended. They can be hired at the visitor centre. The walk is about 4 km in length, taking 3-4 hours at birding pace. With all proceeds from eco-tourism going back into the community, this is a conservation project well worth supporting.
Accommodations in Kibale National park
Tourists are advised to stay in Primate Lodge Kibale, Kanyanchu River Camp, Sebitoli Camping ground located in northern part of the park, Bigodi region in southern region of the park, Chimps' Nest, kibale forest Camp, safari Forest Bigodi, Mantana tented camp, Nyinabulitwa Resort and safari Camp, Crater Valley Kibale- lake side Resort, Lake Nkuruba nature reserve and so on.