Gorilla Forest Camp – Bwindi 5 Star Lodge – Uganda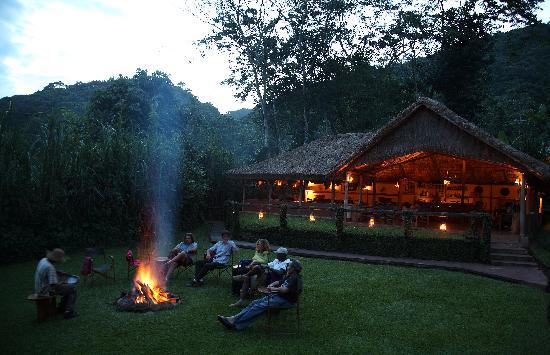 The Gorilla Forest Camp is a permanent luxury tented camp situated in the misty rainforests in the heart of Bwindi Impenetrable National Park. Because of this exclusive location, the Gorilla Forest Camp is known as the ideal base for Gorilla tracking, viewing and birding within in the Bwindi Impenetrable National Park.
Bwindi is one of the most biologically diverse areas on Earth, and is recognized by UNESCO as a World Heritage Site. The park is situated on Uganda's extreme western border, very close to where the confluence of the Rift Valley and the Great Lakes have created an eco-system that has been described as defining 'the very essence of the continent.'
Special Requests:
Gorilla Forest Camp prides itself on their personalized services. Please do alert us to any special requests, dietary requirements, allergies or medical conditions. Please advise this information at the time of booking, so that we may better prepare.
Rates & Gratuities:
The rates include all meals, laundry and most beverages (spirits and champagne are not included). Gratuities for the guides and camp staff are not included in any of the packages offered and are left to the guests own discretion. These may be relative to your experience during your stay.
Facilities:
The Gorilla Forest Camp offers a bar and dining cottage overlooking the rain forest, as well as a raised natural platform for open air dining. At night, a traditional African campfire is lit from where a lecture might be given by a visiting primatologist, the gorilla briefings are undertaken or guests simply admire the myriad brilliance of Bwindi's crystal clear mountain sky.
Access:
Scheduled flights: – Entebbe AirportCharter flights: – Entebbe Airport to Gorilla Forest Camp(Kanyonza Airstrip) – 1 hour 45 minutesThis strip is a grass strip 2,400 feet long, can take aircraft carrying a maximum number of 6 clients. For larger groups, Ishasha airstrip which is 65 km (2 hours 30 minutes) away on rough tracks is used. There is a vehicle based at the camp to handle fly-in transfers.Road transfers: – Entebbe to Bwindi – 590km(±11 hours)Self-drive: – Entebbe to Bwindi – 590km(±11 hours)
Accommodation:

Gorilla Forest Camp has been designed to blend seamlessly into this most atmospheric of environments, carefully-appointed towards the misty valleys and looming, forest-clad mountains that protect this fragile eco-system.
Accommodation is in 8 double tents, raised on wooden platforms, each with en-suite facilities and hot and cold running water, WC, basin and unusually – a bathtub looking out onto the forest. Each tent has a spacious wooden verandah where guests can relax, enjoy a private meal and absorb the exotic mystery of the surrounding rainforest that provided the inspiration for the animation of Disney's The Jungle Book.