Gorilla trekking in Uganda is without doubt a once-in-lifetime adventure to see the rare mountain gorillas in their natural environment. It is exceptional experiences which no other activity can match and in the world, the mountain gorillas can only be spotted in their natural habitat not at the zoo-this applies to other mountain gorilla destinations.
Mountain gorillas live only in the rain-forests of East and Central Africa not at the zoo. They are protected in Uganda, Rwanda and Congo with only 1063 of these rare species still thriving on earth. Mountain gorillas have had the most successful conservation story on earth and great thanks go to introduction of gorilla tourism in 1973, studies of Dian Fossey and Louis Leakey in the 1980s which spread the plight of these unique apes to the world.
Fewer than 240 mountain gorillas only existed on earth and their population decrease was greatly impacted poaching, habitat loss, infectious diseases and other threats. Today, as a result of gorilla tourism that has boosted gorilla conservation, there are over 1063 mountain gorillas thriving on earth. A deep insight about these rare apes can be had while on gorilla trekking safaris in Uganda's Bwindi Impenetrable National Park & Mgahinga Gorilla National Park.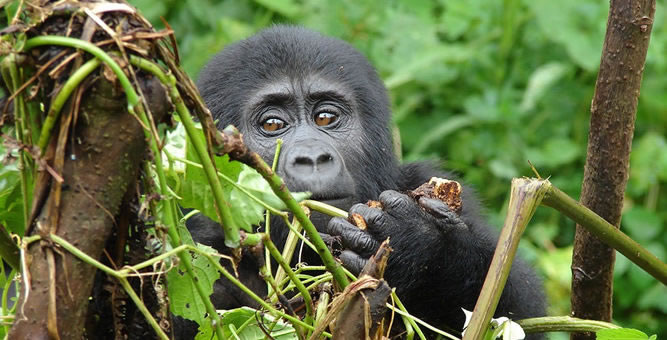 What is gorilla trekking?
In simple terms, gorilla trekking refers to the guided hike into the tropical rain-forest to see already habituated family/group of mountain gorillas. The treks often take you through tangled scrubs, steep slopes, dense vegetation zone. This is done only in natural forests rising up to about 4500m and not in the zoo.  All Uganda gorilla treks are led by experienced tour guide beginning from the park headquarters at 8:00am. Uganda is a home to 21 groups of habituated endangered  mountain gorillas.
Where are mountain gorillas found in Uganda?
Mountain gorillas live only in the wild and in Uganda, these Eastern gorilla sub-specie exist only in Bwindi Impenetrable National Park & Mgahinga Gorilla National Park. There are 2 National Parks in Uganda are located in the Southwest Kisoro and Kabale Districts, protecting half of the 1063 mountain gorillas.
There are 5 different regions for gorilla trekking in Uganda and in Bwindi, there are 4 including Ruhija, Buhoma, Nkuringo and Rushaga regions. In Mgahinga, there is only one gorilla group to kick start your Uganda gorilla trek. All the 5 gorilla regions are managed by Uganda Wildlife Authority (UWA).
Bwindi Impenetrable National Park stands out as the best place worth considering for gorilla trekking in Uganda. It was founded in 1991 and spans on 131sq.kms of land area, designated as a UNESCO World Heritage Site in 1994. Mgahinga National Park sits on 33.7sq.kms of land area, spreading to make part of the Greater Virunga Conservation Area and protects both the endangered mountain gorillas and golden monkeys.
What is a typical Uganda gorilla trek like?
A typical day of Uganda gorilla trekking begins from the briefing point including Buhoma, Ruhija, Nkuringo, Rushaga and Ntebeko areas. Briefing starts from 7:00am and visitors must leave their accommodations early to meet the park official. From the briefing point, visitors are divided into groups of 8pax each allocated to different habituated groups.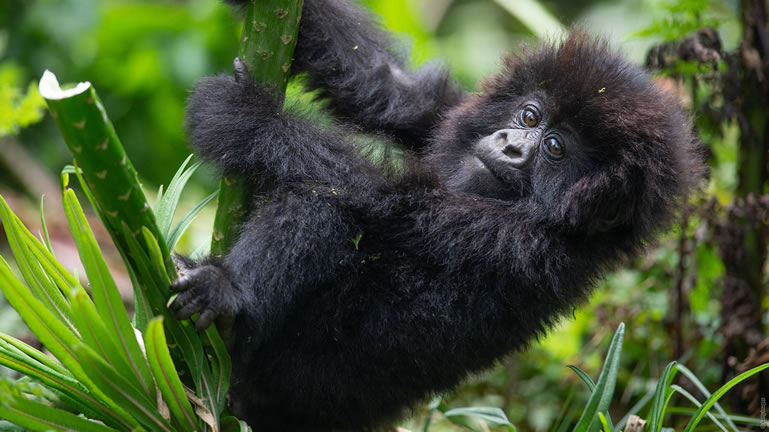 How long does the Uganda gorilla trek take?
A typical day trek takes at least 1-6 hours and all treks are led by armed park guide/trackers. How long you take to find a habituated family of gorillas all depends on your trekking speed, fitness, nature of environment where these apes reside, location of gorilla group families. Finding a habituated family means you enjoy 1 hour that all trekkers are guaranteed to explore more about gorillas and in particular their daily behaviors.
How difficult is gorilla trekking experience?
Trekking through elevation of 2600m to see mountain gorillas can be strenuous but so rewarding. It is a tough journey finding a habituated family of mountain gorillas but interestingly, not only the young have completed their treks but even the elderly of 60 years have had successful gorilla trekking stories. On actual gorilla trek in Uganda, there are porters (From USD10) to hire to assist carry heavy baggage.
Is gorilla trekking in Uganda safe for women?
Gorilla trekking is done not only by men but also by women. It is generally an open primate adventure and it is done only in already habituated gorilla families. Before setting off, all visitors are briefed on safety procedures to observe while on trek to see mountain gorillas.
Is gorilla trekking in Uganda worth the money?
Yes, gorilla trekking is worth spending first, a typical gorilla tour covers gorilla permit USD700. Conserving/protecting mountain gorillas is costly and what trekkers pay is used to facilitate all activities aimed at ensuring security of these rare apes including research, paying trackers, guides, park officials, doctors who treat gorillas etc.
How much is Uganda gorilla trekking?
Gorilla trekking in Uganda isn't costly-permits are issued to foreign non-residents at USD700, for foreign residents USD600 and East Africa Nationals/Citizens UGX250,000. But most often, the cost rises due to other essentials like cost of transportation, accommodation, meals & tour operators fees.
When to see mountain gorillas in Uganda?
Gorilla trekking in Uganda is a year-round adventure but the best time is to see mountain gorillas is during the dry season. The dry season runs from June to August and December to February in Bwindi or Mgahinga NP. These months come with lesser chances of downpour unlike during the wetter months April and May.
What are my chances of viewing gorillas in Uganda?
There is a 99% higher chance to see gorillas in their natural environment in Uganda. This is because most of the gorillas have undergone through habituation and also trackers are sent early to locate them before visitors start their trek in any of the 5 regions.
What to wear for Uganda gorilla trek?
Your wear packing list should include long sleeved shirts, waterproof hiking boots/boots, gardening gloves, sweater, rain jacket, hat. Other items that are essential for your gorilla trek include camera, first aid kit, insect repellent, bottled water, snacks, sunglasses, sunscreen.
Accommodation
Some of the important places to stay in are; Volcanoes Safaris Bwindi Lodge, Nkuringo Bwindi Gorilla Lodge, Buhoma Lodge, Rushaga Gorilla Lodge, Ruhija Gorilla Lodge, Broadbill Forest Camp, Buhoma Community Rest Camp; in Mgahinga NP-Mount Gahinga Lodge, Amajambere Iwacu Camp, Kisoro Tourist Hotel. 
How to get there?
By land from Kampala / Entebbe to Mgahinga & Bwindi National Park, it is 9-10 hours' drive and from Kigali, 3-4 hours' drive.However note, a strong 4×4 is highly recommended because the roads to the gorilla parks are in bad state, and some times impassable after heavy rains. 4×4 Uganda Ltd can advise you on the suitable 4×4 for a fantastic Road trip in Uganda.
By air, 1-2 hours flight from Entebbe Airport to Kisoro/Kihihi airstrips.