Uganda wild life Education Centre (UWEC) is the start point for any Uganda safari package! It is located at Entebbe town, one of the countries key cities in Uganda. Entebbe area has the major entry point in Uganda and that is, Entebbe International Airport (EBB). This is a great opportunity for UWEC as it received many tourists from different parts of the world visiting Uganda. It is less than 10 minutes drive from the airport, and it is sorrounded by many accommodation units such as Imperial Resort Beach Hotel, Entebbe Traveller's Inn, Golf Course Hotel, Laico Lake Victoria Hotel, The Boma Hotel, Sunset hotel and many more. Once someone checks in his or her hotel, she / he can take a visit to UWEC.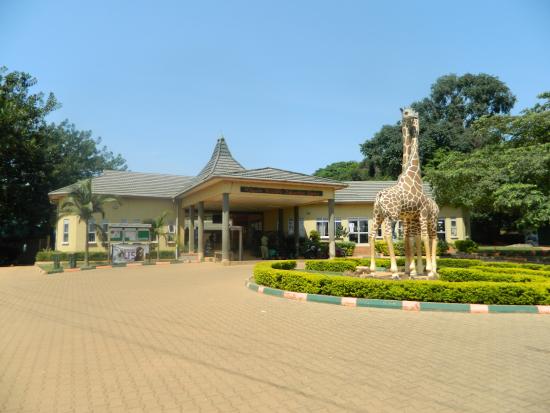 The Centre was created in 1950s by the government of Uganda with the assistance of the Wildlife Conservation Society in New York and managed by a Wildlife Trust. The Centre is one of the greatest attractions in Entebbe which is leading to safaris in Uganda and also the only one found in Uganda.
Uganda wildlife Education Centre was created to assist the confiscated, injured and orphan animals which have been taken away from smugglers and poachers. The Centre accommodates different wildlife species like vervet monkeys, DeBraza monkeys, over 120 bird species can be observed by tourists on Uganda holidays like African fish eagle, the Great Blue Turaco, Giant King Fishers, elephant, giraffe and very many others.
Uganda wildlife Education Centre is a Centre where wildlife education together with leisure is offered. The Centre is not a Safari Park or Zoo, so visitors on Uganda vacation can enjoy their leisure time in this Centre.
The Centre keeps some species which are already extinct in the wild and could have disappeared completely without captive environment. The Centre keeps the animals for the future generation and to awaken people on wildlife conservation in different Safari Parks for future benefits through improved tourism in Uganda.
For tourists who want to enjoy the view of wild animals in their natural habitats, the good news is that you can have a chance to enjoy seeing animals in their natural habitats. Uganda has ten national parks blessed with unique wild life. Game drive is the major activity tourists do to sight the different wild games in the parks. Murchison falls, Kidepo valley and Queen Elizabeth national parks have the greatest and different wildlife species ranging from the biggest, tallest to the smallest and they are the most visited national parks by tourists.
More parks to see unique, rare and endangered wildlife include Kibale national park that inhabits 13 primate species, and this is the highest concentration in Africa. Among the primates in Kibale forest include chimpanzees, colobus monkeys, Blue monkeys, Grey cheeked mangabeys, Red-tailed monkeys and Olive baboons among others. The popular tourist activities here include Chimpanzee tracking and habituation experience, bird watching and forest walks among others.
Another place to visit include the impenetrable forest of Bwindi national park and Mgahinga National park, located in south western Uganda, both famous for mountain gorilla trekking in Uganda. They inhabit more than half of the world's remaining population of the endangered mountain gorillas, with over 14 gorilla habituated gorilla groups. Apart from gorilla trekking, Bwindi impenetrable national park is also famous for gorilla habituation experience in the southern sector of Rushaga.