Congo Safari overview
This 3 day gorilla mountain gorilla tracking and hike of Nyiragongo will start from Gisenyi in Rwanda, Nyiragongo & Gorilla trekkers and return to Gisenyi on the third day. Below is the itinerary.
Detailed Itinerary
Day 1: Gorilla Tracking.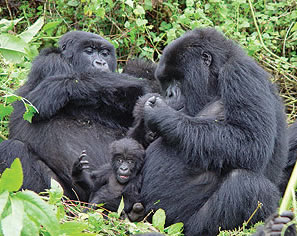 Very early in the morning, you will depart from Gisenyi and cross over to DR Congo up to the Virunga National Park Station where you will be briefed about the dos and don'ts while you are with the Gorillas. After the briefing, you proceed for the memorable adventure of gorilla tracking. This rather strenuous but un-regrettable adventure will take you through thick and muddy environment, and may take you 2-6 hours to locate the amazing apes, depending on their movements. After a maximum period of one hour with the Gorillas, you descend to the headquarters where the driver will transfer you to Goma for Dinner and overnight.
Day 2: Nyiragongo Volcano Hiking.
Congo Nyiragongo after your breakfast, you will move from the hotel, and do some shopping in the supermarket before transferring to Kibati Village where you start you hiking experience. Start the hiking and arrive at the top in the afternoon. This will take you 5-8hours, with en-route view of some animals and birds along the trail. Admire the lava lake all evening, before retiring in the tents on the rim of the giant crater high above the active lake. The climb up to and down from Nyiragongo is strenuous and often in hot conditions, but the path is relatively easy and not excessively steep.
Nyiragongo is one of the world's active volcanos, with an impressive lava lake. The last time it erupted was in 2002, when flows of very liquid lava broke out from cracks in the volcanic slopes killing dozens of people and leaving many homeless. The eruptions temporarily drained the lava lake in the summit crater while volcanic gases suffocated the heather forests on the upper slopes. Now the forest is recovering, and the wildlife is beginning to return.
Day 3: Transfer to Gisenyi.
After your picnic breakfast at the top of the volcano, descend down to kibati village, which may take you 4-5 hours. Your driver will then transfer you back to Gisenyi in Rwanda.