Detailed Itinerary
Day 1: Arrival
On arrival at Kanombe airport in Kigali, you will be met by Congo Lowland Gorilla safariour company representative who will transfer you to your hotel in Kigali. Dinner and overnight.
Day 2: Transfer to Bukavu- DR Congo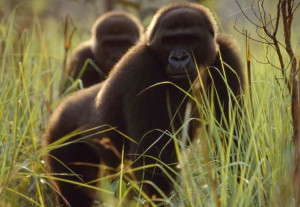 In the morning, you will be picked by the driver and drive southwards to Cyangugu boarder on the way to Bukavu in DR Congo. You will have stop over in Butare, where you will visit the museum, the king's palace in Nyanza, and the genocide memorial. After lunch, continue a scenic journey to Bukavu with wonderful view of hills through the tropical forest of Nyungwe National park and clear view of Lake Kivu. Dinner and overnight in Bukavu.
Day 3:  Lowland Gorilla Trekking
In the morning, you will head for the memorable adventure of tracking the lowland gorillas in Kahuzi Biega National park. Trekking of these amazing lowland gorillas, which differ from the mountain gorillas, for they are bigger in size, will take 2-4 hours. These gorillas stay in a bigger family; you will not regret the effort once you meet these amazing animals! After trekking, return to Bukavu for dinner and overnight.
Day 4: Transfer back to Kigali
In the morning after a relaxed breakfast, return back to Kigali, crossing the Rwanda-Congo boarder. If your flight is on schedule, transfer to the airport for your flight. Or else, dinner and overnight in Kigali.
End of the safari