Nkuringo Walking safari Camp – Gorilla safari Bwindi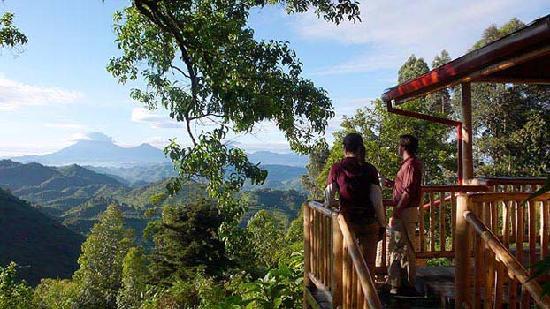 The Nkuringo Gorilla Camp is to be found located at 2161m ASL on the Nteko ridge overlooking a beautiful swath of the world renowned Bwindi Impenetrable National Park. The ridge provides a superb vantage across the Kashasha river valley to the forested hill known as 'Nkuringo' and the surrounding swathe of trees of the Bwindi Forest.
This section of forest is home to the Nkuringo family of Mountain Gorillas from where the camp provides a prime access point to the start of this amazing activity. The camp has panoramic views of the majestic volcanoes of the Virunga chain and across the escarpment into the Albertine Rift Valley within the DR Congo.
A lucky few visitors will observe the clouds envelop the forested valley below the camp and be party to views to the north as far as the glaciers on the Rwenzori peaks some 160 kms distant. In January 2010 visitors where thrilled to witness not one but two active volcanoes in the DR Congo from Nkuringo. Both Nyiragongo and Nyimuragira continue to light up the night sky on clear evenings for the intrepid travellers to Nkuringo.
As well as offering budget accommodation and now two beautiful hand crafted cottages for visitors tracking gorillas be that the Nkuringo and Nshongi groups the camp is also a strategic stopover point on the Nkuringo Walking Safari. This unique walking trail passes through the Bwindi Impenetrable Forest from the national parks headquarters in Buhoma to the South Western Ugandan town of Kisoro. Many walkers continue on to Mgahinga National Park to undertake volcano climbs of Mount's Sabinyo, Gahinga and Muhavura.
Birding enthusiasts will find Nkuringo of interest as a starting point to traverse the Bwindi Forest some 12 kms to the national parks HQ visiting parts of the forest not normally frequented by those staying only in Buhoma. Nkuringo has it's own high altitude pocket forest where visits can be arranged with community guides.