Muhabura Hotel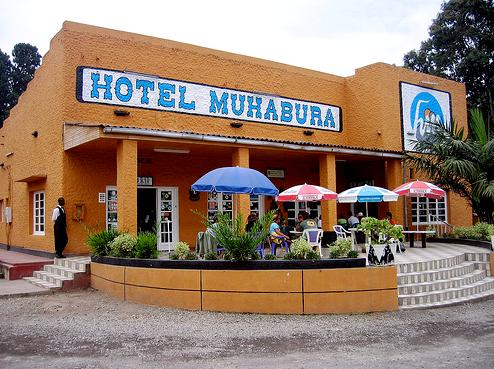 The fascinating hotel with an experience that makes guests live home away from home. When visiting the Land of a Thousand Hills, a wonderful stay is advised at the Muhabura Hotel of the Northern Region set in the calm of the town surroundings. Within the hotel, you can enjoy a climate beyond your expectations.Rwanda gorilla safari
Muhabura Hotel is found opposite Musanze District headquarters at the right side the Bank of Kigali and the main road from Ruhengeri to Rubavu. It is around 5 minutes drive from downtown In addition, it is found in a town closest to the Volcanoes National Park, an un doubt fully convenient base from which you can easily trek Mountain Gorillas, visit Dian Fossey Grave, Golden Monkeys and enjoy Mountain Hiking.
There are keen interests in offering a wide range of accommodation facilities and channels of service result from expert management decision makers, long experience, professionalism and in-service trainings. Either staying in or passing by the hotel, guests are provided with a good number of choices in compliance with their needs.
At the hotel front office, you are warmly welcomed by members of staff with the necessary knowledge to help you get necessary information about the region, bank exchange rates against hard currency, attraction areas, tour guide facilities and other information regarding the local market and accommodation prices in different regions of the country. For accommodation and related services, the hotel's front office welcomes guests 24hours a day, there are three room categories made of doubles, twins and Singles, all self contained with hot shower.
The bar makes the town difference since it offers a variety of nice sitting places as an alternative for the market needs. The attached balcony is ranked favorite for tourists as it holds a panoramic view open to the volcanic chain. Still, the counter remains an outstanding fitness in the internal bar room for those who will enjoy a meal or drink while watching satellite Television channels.
As set in compound green grounds, there is a monopoly of nice entertaining garden under the exciting tree plantation and from which the landscape and the mood are more than welcoming. Under the same green roof, a number of quiet and intimate bungalows are at the customers' disposal.
When touring or passing by the Northern Province, never miss an occasion to experience food service and breakfast specialties in the hotel lying on the outskirts of the town alongside the road to Kivu Lake shores. Once sat in the dining, you can make whatever kind of order without worrying about timetables and schedules. Food service is always performed by professional members of staff with various cooking styles and delivered in a quick and accurate manner.
Bearing no resemblance to the local environment, the hotel daily welcomes guests to a ready for service menu; otherwise, a list of 'A LA CARTE' menu is available. The grills can be compared to nothing in the region.
To strengthen the existing business relations with a great number of the target market, the hotel closely works with local and international tour operators in a win-win atmosphere. In this framework, famous agencies like Access Rwanda Safaris, Volcanoes Safaris, Primate Safaris, Kiboko Safaris, Amahoro Tours, Thousand Hills, Kananga Tour and Travel Agency, Exodus, Rwanda Tourism among others.