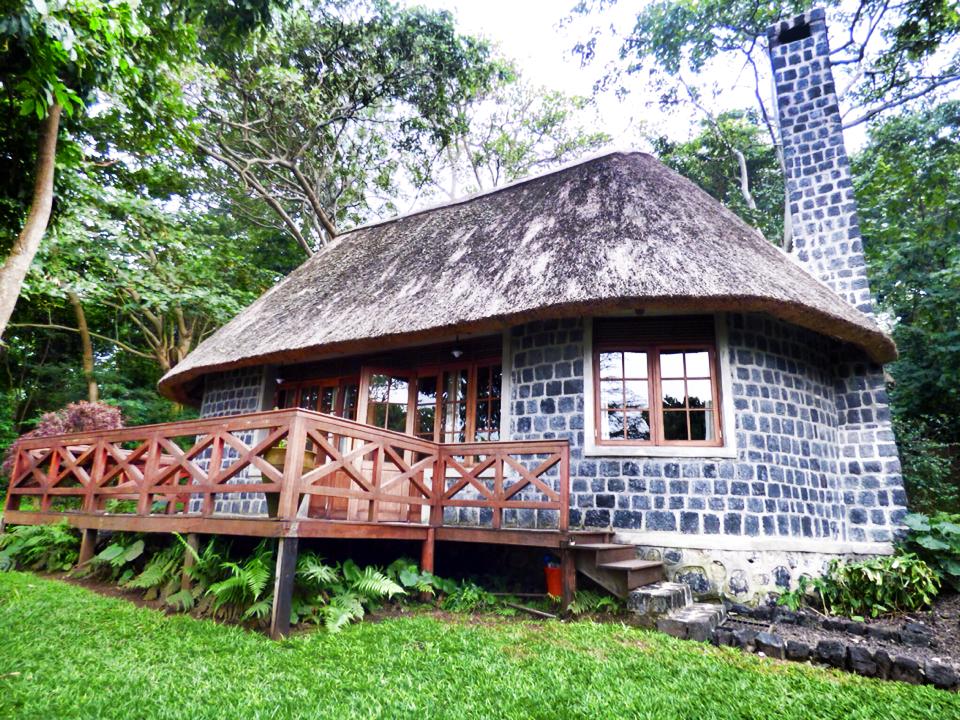 Are you planning to go for mountain gorilla safari in Congo (Virunga National Park) but you are wondering about where you spend a night before or thereafter your breathtaking adventure? Have you ever heard about Mikeno Lodge? Well, Democratic Republic of Congo (DRC) is one of the three only countries in the world where the rare mountain gorillas are inhabited and to realize your dreams with these special creatures while they are in their natural home has been facilitated by presence of luxury and comfortable accommodation facilities and Mikeno Lodge is one of a kind lodging facilities that shouldn't miss out in your travel plan.
This lodge is features as a luxury facility and it is only one and half hours drive off Goma and it comes with huge bungalows and the best restaurant. Mikeno Lodge and its restaurant are situated in the forest and they present the most spectacular views of the mighty rift valley and the Nyiragongo and Mikeno Mountains. If you are a nature lover, you can as well embark on nature walks and exploration of local areas of your interest or simply sight out most of the bird species and several of resident blue monkeys, colobus monkeys, baboons and chimpanzees that come around the lodge area. The cost of accommodation goes at $330 per person for single room, $475 for double and $705 for triple including breakfast, lunch, dinner and 16 percent of government value added tax but excluding transport cost.
If you are looking for hidden natural wonders then Mikeno Lodge is one of the best options for you while on safari to Virunga National Park. The lodge's bungalow accommodation is spacious, luxurious and offer adequate privacy that any traveler wishes to have while on safari, each of which features incredible trees or offer spectacular valley views. Every bungalow also features its own fireplace that the staff light each evening while visitors are out enjoying their dinner. The lodge features materials such as thatch, mahogany and lava stone from the Virunga Mountains that make it one of the most beautiful places compared to the rest of the lodging facilities in the Virunga National Park.
Mikeno Lodge features 12 detached bungalows all of which present comfortable atmospheres for visitors while in the jungle. Each of the bungalows features en-suit bathrooms; stone curved sinks, baths and showers. The main lodge comes with open plan communal areas where visitors can chill, share a drink and sit down for dinner. The balcony comes with stunning views of the luxuriant vegetation and the traditional African structure with a thatched roof where communities gather for outdoor meals and get togethers. The lodge has professional chefs that make about 3 (three) course meals in the onsite restaurant using the lodge's very own vegetation garden and this offers you opportunity to have a taste of fresh products. There is also a fully deigned room and stocked bar for you to relax in the evening.
The lodge is strategically located in away that visitors can engage in mountain gorilla trekking and chimpanzee trekking in the Virunga National Park. It is just within a walking distance of the Senkwekwe center at Rumangabo that takes care of orphaned gorillas. You can also take a cultural walk to the nearby local communities and coffee plantations and visit the Widows Workshop-a project operated by the park that assists rangers' widows learn significant skills that they can support their families.
Also, children are also welcome to have a stay at Mikeno Lodge however certain adventures have limitation especially hiking the Nyiragongo Mountain which requires persons above 12 years and for mountain gorilla and chimpanzee trekking, you have to be 15 years and above. However, there are some activities that can be organized for children as well as parents embark on strenuous mountain hike at Nyiragongo or mountain gorilla and chimpanzee trekking.
In conclusion therefore, Mikeno Luxury Lodge is not only for visitors to have comfortable accommodation but also a place for one to have the most exciting and interesting experiences while on mountain gorilla trekking, chimpanzee adventures, hiking Mountain Nyiragongo, nature walks, bird watching and many more.